Taiwanese singer-actress Annie Yi and her gay artist son Harrison Yu launched a non-fungible token (NFT) project "Theirsverse" in July in New York, telling Forkast in an interview the goal is to to build an LGBTQ community to promote diversity and inclusion in the early development stage of Web 3.0.
Yi, 54, who has 20.4 million followers on Weibo, and her son, 20, said the Theirsverse aims to offer a platform for young artists from diverse cultural backgrounds and gender identities to promote equality. Yu is a film student at New York University Tisch School of the Arts.
A total of 5,500 NFTs — which came with nine collections created by 16 artists including Yu — were sold out within three hours after public sales began in July at a price of 0.18 ETH (US$242.5), Theirsverse website says. The NFTs' floor price is currently at 0.219 ETH at 4 p.m. on Tuesday, according to listings on OpenSea.
In mid-September, auction house Sotheby's auctioned off two Theirsverse NFTs at HK$378,000 and HK$302,400.
The following interview has been edited for brevity and clarity.
Timmy Shen: What prompted you to start the NFT project? What's the back story?
Annie Yi: Last year, my son decided to start this project. He found that in Web3, there's this NFT community like BAYC showing the manpower and World of Women showing the woman power. But there is no LGBT community for the younger generation.
Harrison Yu: The whole story of creating this whole thing was back to when I was 14 or 15, I remember I went to Paris with my mom and we went to this select luxury curation shop. I thought it was amazing to put on these amazing brands. I see fashion as an art form. So it was like I was in a museum and I thought that was so incredible just curating and collecting brands.
But I also wondered what it's like for younger artists. The brands there are all so big and well established and already getting a lot of money with their own stores, and now they're getting even more money with these curator shops. So I thought of this idea of starting an artistic platform for younger artists to generate their brand and act as a medium for them to stand up for themselves, even without the preexisting fame or recognition.
The idea of metaverse came in around the start of this year. Knowing that it's a breeding ground for the younger generation and a place to merge Web2 and Web3, or that's what we want to do in that place. I think that that kind of tied it all in.
[For the NFTs] everything is hand-drawn. We're doing full-body figures, so it's the hair, makeup, the fashion, the garments — everything coming together and all these different types of personality coming out. I feel like that's something that I'm really proud of during our creation process.
Shen: Why is LGBT a big part of the creation?
Yi: When he was a child, about six years old, he told me: "You and dad really wanted a boy. I was actually a girl in your belly but I wanted to protect you, so I changed my gender in your belly and let you feel more comfortable in this traditional [household]."
Later, when he was about 14 years old, he said he wanted to become a drag queen. Even though I thought I was open-minded, I still felt shocked at that moment, but I had to learn and help him.
Yu: I am a part of the LGBTQIA+ community. I am a gay man. But I also kind of identify towards gender non-binary pronouns. And I do drag as well. So I consider myself a shapeshifter. I can be a man by day and a woman by night, and I gain immense pleasure from doing that.
I think a big part of it is learning about all the misconceptions that people have of me telling me who I am, why I am the way I am. So that was the more personal part of it that kind of drove me towards expressing these kinds of issues. And it's not just LGBTQIA+ issue, it's also an issue of race, issue of gender, sexuality, issue of social hierarchy, social norms and social constructs.
When you think about NFTs [it's associated with] a tech bros, white, cisgendered male-dominant kind of industry. But at the same time, it's kind of the place we're going in the future. Throughout history, minority groups have been pushed off their grounds and their space for conducting who they are because of hatred. And I feel like right now with where we're going, we really do have to step on our ground fast and early on in the process of the building of Web3.
Shen: You had lots of media attention in the Chinese-speaking world about your sexuality and coming-out stories. How did you handle that pressure growing up and was that part of the inspiration for Theirsverse?
Yi: For three or four years, he got a lot of bullying from the media. Some saying that his parents were divorced, so that's why he was so weird.
Later he decided to go to New York, where he could feel freer because nobody knows who he is. But that was when hatred towards Asians intensified. He could still face bullying problems because of his race and skin color.
Yu: Funny story is that I never came out to my family. My mom actually came out for me and to me. I love my mom. She's amazing. I am really privileged in the fact that I never had to sit the family down over dinner, have an awkward conversation, work my way into it and be like, "Guys, elephant in the room: I'm gay," and you have to do all that reaction stuff. I never had to go through all of that.
My life is comparatively a lot more privileged, so I'm not going to complain about it, but the reality kicked in when I graduated high school and started growing comfortable with myself and in drag. So I started posting on the internet, and it turned out that someone found my Instagram, which was private at that time, and posted all my drag pictures. 
That was a hiding-from-everyone time with a whole week of paparazzi waiting outside for me. I'm not going to say I am the most oppressed person of color, or LGBTQIA community member, but I definitely got a taste of what it's like to have so many biases towards you when you know it's not true and you can't speak up about it. So I think that was definitely a lesson.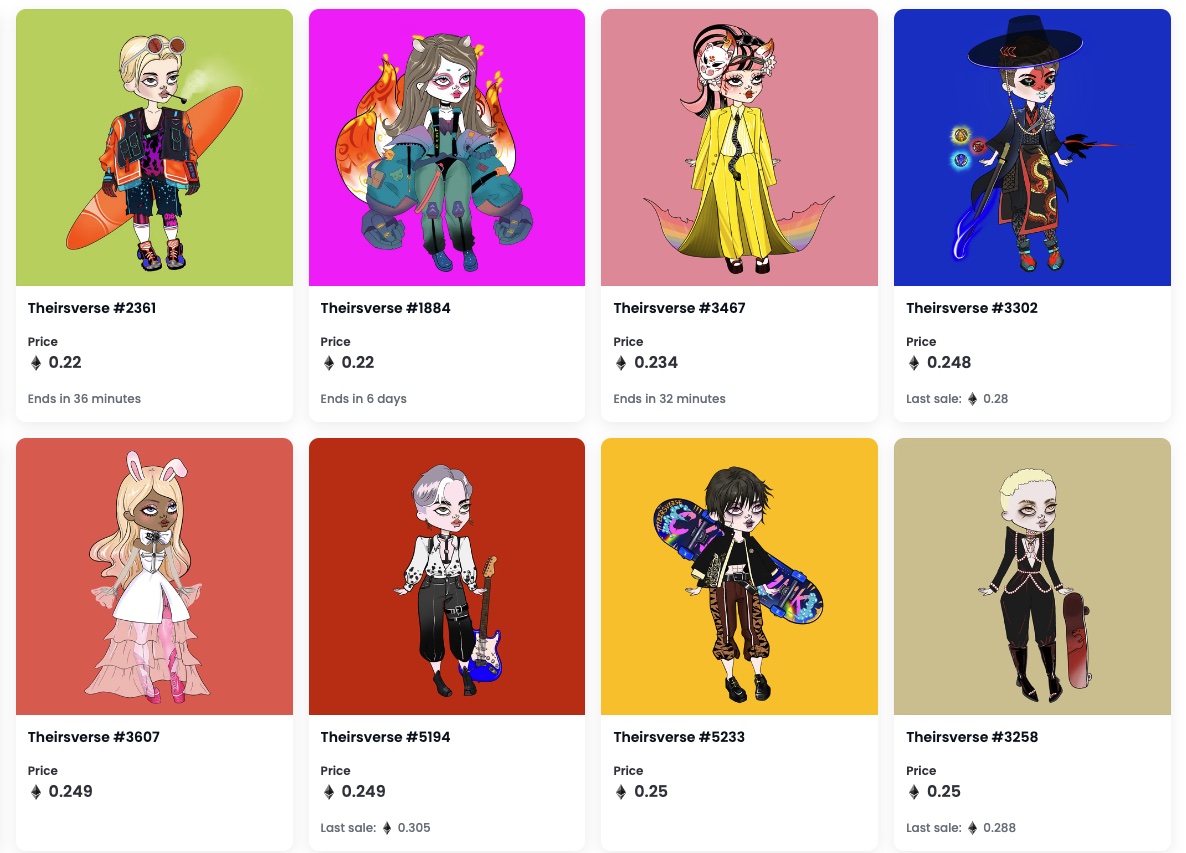 Shen: Could you tell us more about the NFTs you drew? Also, do you have any upcoming projects you could share with us?
Yu: The original collection I did was a pride collection, which is still one of our collections, but there were a lot of mix and matches that went into it. But yeah, I thought it was only fitting that I do two pride collections.
I'm going to a film school for college, but I'm actually still really sad that I gave up fashion, which was also the other thing that I wanted to do for college. And I also am a dancer and I like writing songs and all that stuff. So a part of me needed to bring that back in. So the PFPs (profile pictures) [NFTs] weren't enough for me. Just seeing them in 2D on a flat screen isn't enough for me.
So I proposed that we should make a kind of virtual idol, which is coming up soon, that I'm really excited about, and I'm choreographing the dances and writing the songs for it.
See related article:New York City pride parade will also be marching through the metaverse